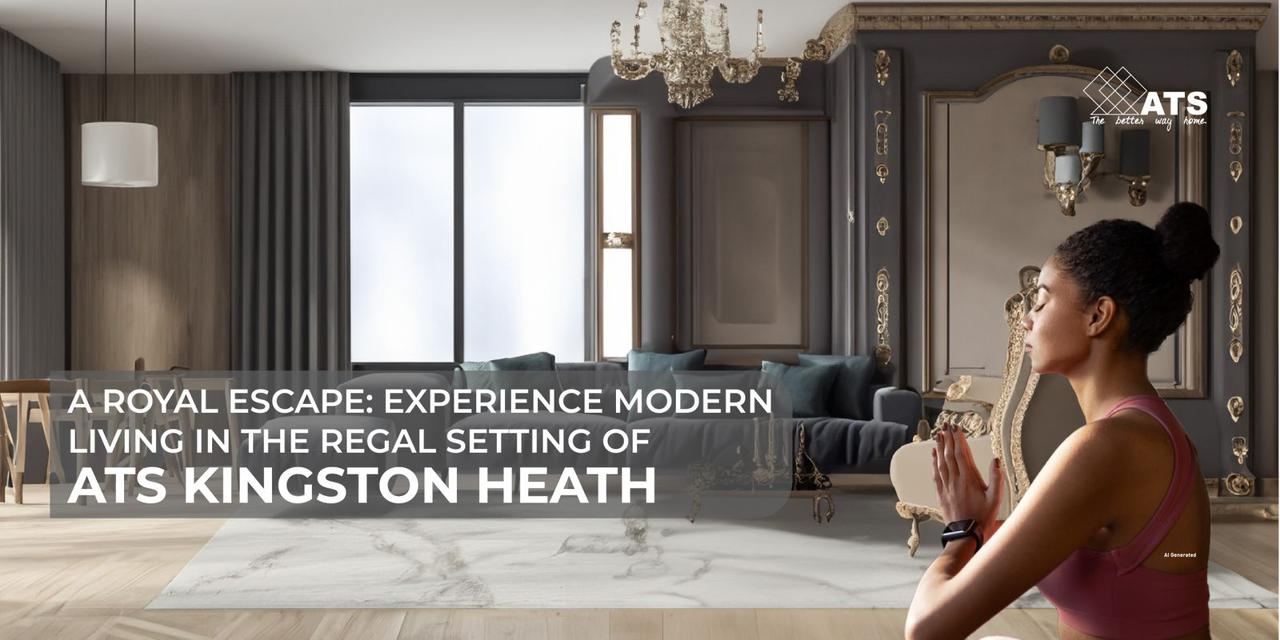 Industry News
A Royal Escape: Experience Modern Living in the Regal Setting of ATS Kingston Heath
By: WireDus, November 15, 2023
Welcome to a home that is synonymous with wellness, that speaks volumes but away from the chaotic bustle, your own island of greens and calmness and, a perfect harmony of grandeur and earthly elements- Welcome to your very own wellness paradise at ATS Kingston Heath.
ATS is known for its spectacular homes that are well designed and well suited for your lifestyle needs- and here with Kingston Heath, we are poised to take care of your overall well-being.
Experience holistic living, an escape from the heat and dust of city streets and enter into a world of lush greens with a refreshing spark. Kingston Heath by ATS Homes is your Biophilic Wellness Haven.
Delhi NCR'S first wellness homes
The property is not just an ordinary one, but an extraordinaire. This is your first step towards a healthier, fitter and a life full of happiness. Here you have the liberty and an aura to live differently, breathe differently, eat differently, choose differently and do all that calls for a life that is cherished, enjoyed to the most. It is a treasure of wellness that stays with you forever and would leave an impeccable feeling that sways you off your feet. The property has a sprawling 34 acres carpet of greens- now you know what you are settling for. The property has been architected to provide a symmetry for living.
Advantageous location that keeps you close to all things necessary
ATS Kingston Heath has been constructed, keeping in mind the comfort and convenience of its residents. Located prominently in Sec 150, it marks as the gateway to Noida when travelling from the Noida international Airport. The premises are situated in a dedicated sports sector with almost 80% green cover. As far as you can see, there is never a dull moment to take your eyes away. You will be soaked in nature's blessings when you are home at Kingston Heath.
Connectivity- 30 mins away from Noida international Airport, 2 Km from Sec 148 Metro station and flanked by both Noida Expressway and Faridabad-Noida-Ghaziabad Expressway
Education-

Give the top tier education to your kids in the world's best schools. The property is situated in close proximity to international standard schools. Choose from GD Goenka Public School, Genesis Global School, Shiv Nadar School, Gyanshree School and KR Mangalam World School. When you have so many options to explore, you would not want to miss this chance.
Healthcare-

A quick and easy access to medical facilities adds a star to ATS Kingston Heath. All major hospitals- Kailash Hospital, Yatharth Super Speciality Hospital and Jaypee Hospital are just in the vicinity and a drive away. You can be rest assured that medical services are available at hand for all emergency situations that may arise.
Recreation-

ATS Kingston Heath is surrounded by a golf course, a cricket stadium, night safari option, bird sanctuary and World of Wonder
Retail-

Hop on to the best shopping malls to satisfy the shopaholic in you to your heart's content. Shop till you drop or buy groceries or just spend some leisure time with your loved ones at leading malls; DLF Mall of India, Great India Place, Grand Venice Mall, Logix Mall, Connaught place Mall and the upcoming ATS Kingshood Drive.
Thoughtfully curated haven and a place for all
At Kingston Heath, residents live in complete sync with nature while enjoying an avant- garde living lifestyle. There is organic geometry, connected open spaces and activity based zones to fulfil all your needs.
It is a place for all age groups and you would be mollycoddled and spoilt for choice with engaging health amenities and daily activities.
Balanced state of mind and body

– In this everyday turmoil, it is imperative to nurture the inner you and heal the damage with traditional practices. You will have your hands full with a Yoga and meditation lawn, an acupressure garden, reflexology garden and an outdoor kitchen & community dining area

Binge on to nature's detox apparatus-

and cleanse out all the clutter that saturated body and mind. Stay close to nature to reveal the happier and refreshed you. Explore organic farming; banana, pomegranate, guava, drumsticks and more; Herb and medicinal garden that are abound with coriander, lemongrass, thyme, peppermint, vajradanti, aloe vera, turmeric, lavender, chamomile; an air purifying plant zone that is plentiful with spider plant, peace lily, boston fern, snake plant and weeping fig etc

A pandora's box-

You would be swaddled and wrapped up in the acres of greens that are sustainable and stretch out in tropical landscaping. These havens are carefully and thoughtfully designed to help nature heal too with reduced carbon footprints, improved air quality, that fosters purity and a therapeutic simulation of all senses alike. Walk through, spend time in the open greens while exploring bamboo garden, aromatic garden, hydroponic garden and colour garden
Channel the fitness lover
Upgrade and uprise with plethora of fitness options at ATS Kingston Heath. Whether a quick catch up on weekends, or everyday run- you have it all here!
Golf course

Badminton court

Swimming pool

Open air gym

Kids play area

Cricket pitch
And the list goes on..
Immerse yourself and discover your hidden maverick while trying your hands at table tennis, squash court, cards room and more.
An envelope of happiness and health all around
Seek refuge in our clubhouse that can captivate the precarious and refresh your senses, mind, body and soul. It is a holistic wellness and peace stimulator for everyone around.
Conclusion
Step into a whole new world of health and immersive living at ATS Kingston Heath. With all the offerings put together, this property is your foundation of a truly blessed life.